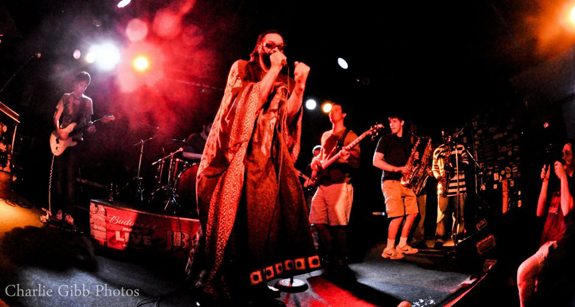 Don't miss this extra special evening of the funkiest sounds around as Stages Music Arts welcomes Joe Keyes & the Late Bloomer Band – featuring special guest Stages instructor Dave Cavalier on drums. This show will be held on our outdoor patio stage. Some seating is available, but feel free to bring your own camp chairs, coolers, drinks and snacks for an incredible evening funky big band vibes under the stars.
$15 General Public; $10 Stages Academy students
Get tickets on Eventbrite
Joe Keyes will be the first to tell you that he is a late bloomer. A lifelong musician who got his start DJ'ing in middle school – it wasn't until 2009, as he was approaching his 50s, that Keyes found his band, and his true sound around an ensemble of young musicians equally adept at playing the funk, R&B, soul, rock and jazz flavors Keyes throws at them.
Equal parts front man, poet, and conductor, Keyes draws on the influences of Miles Davis, Gil Scott-Heron, Sun Ra, and early Parliament-Funkadelic when bands were led by strong, almost otherworldly leaders. As the nine-piece band grooves through the musical spectrum, Keyes cues the horns and the solos and directs the dynamics from epic crescendos to soft melodies. Add to the mix his deep, commanding vocals, which are punctuated by tales of love, family, and addiction from Keyes' six decades on earth.
Dave Cavalier has been playing drums since the age of 10. A staple of the Baltimore music scene, Cavalier has played in groups spanning all genres including rock, jazz, hip hop, fusion, metal, hardcore, indie, ska, pop, and everything in between. He's currently touring and recording with War On Women, a feminist hardcore based in Baltimore. While drums are his first instrument, Cavalier has also seen success with his heavy psych-rock band Black Lung, where he fronts the group as a singer/guitarist. "Playing guitar and singing has definitely made me a better drummer", he notes. "I can visualize everything now and I really understand how to avoid overplaying and getting in the way of the music. We can truly lock in".